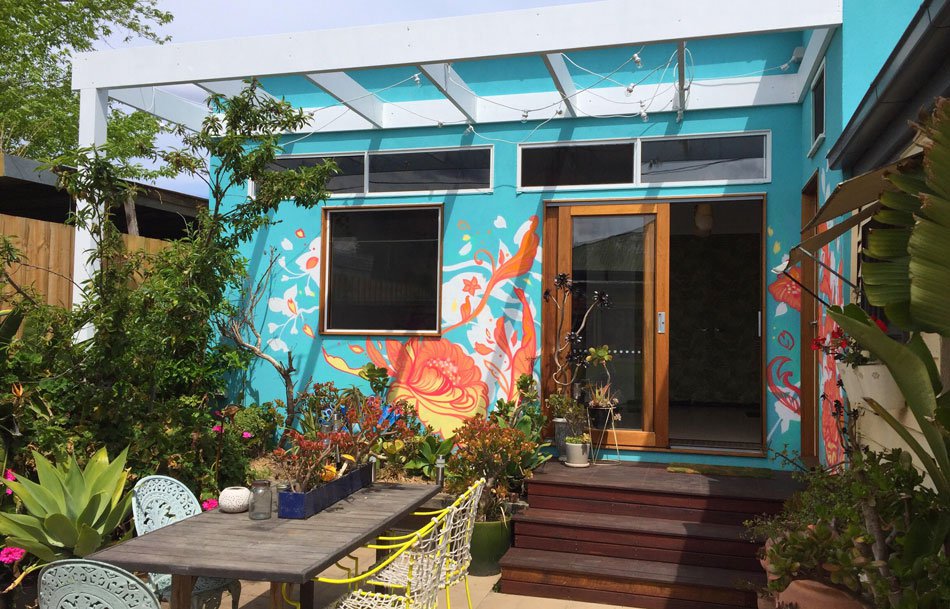 Top tips for Running a Home Studio
Safety First!
If you don't feel comfortable inviting someone into your home, trust those instincts!
I start with an online New Client Form before anyone attends a session. If there are any answers that just don't feel right, you could give the person a call and speak on the phone to see if they are someone you would feel comfortable working with.
If it's just one of those niggling feelings that without an obvious cause, maybe suggest one of your group classes or another venue instead so you can interact in person before inviting them to your space.
My husband works from home and is often around when I'm teaching so I haven't felt the need to add additional security, but if you live alone you might want to consider wording up a neighbour or even adding other home security features.
You might also want to think of how you secure the rest of your house while you are teaching in your home space.
Be consistent with your timetable.
What does this mean?
Try to avoid cancelling sessions - my studio is noticeably quieter for a couple of weeks If I cancel sessions to go on holiday or on a training session, and often in smaller classes people also cancel if you have a cover teacher (because they are coming for you).
I know some teachers schedule in term breaks to avoid disrupting everyone's routine (but still having a chance for a rest).
But stay flexible
Although being a small self-owned space means that you can be adaptable and try different things!
Got an idea for a class that you're excited about but not sure if it's viable?
Try it as a one-off workshop or block of a four classes (maybe with the option to attend casually) and if the interest is there you could turn it into a regular class.
If I notice one of my regular class is booked out well in advance, I often add a extra session before or after the class. That way I can cater for the busy weeks without over committing myself long-term - and gauge interest to see if the extra class will be worthwhile in the future.
Don't be afraid to experiment - it's your space - do whatever feels right for you!
It's also important to listen to feedback and requests - I recently added an extra 15 min meditation to my restorative aerial yoga class because no one wanted to get out of their hammocks at the end of the session.
Build up gradually.
Don't feel like you have to open with a full schedule. It's great to schedule your classes at peak times but it's got to work for you as well!
Start with class times that fit well into your own schedule, and a workload that feels sustainable for you - this is the beauty of a home space, you can start small without the pressure of commercial rent.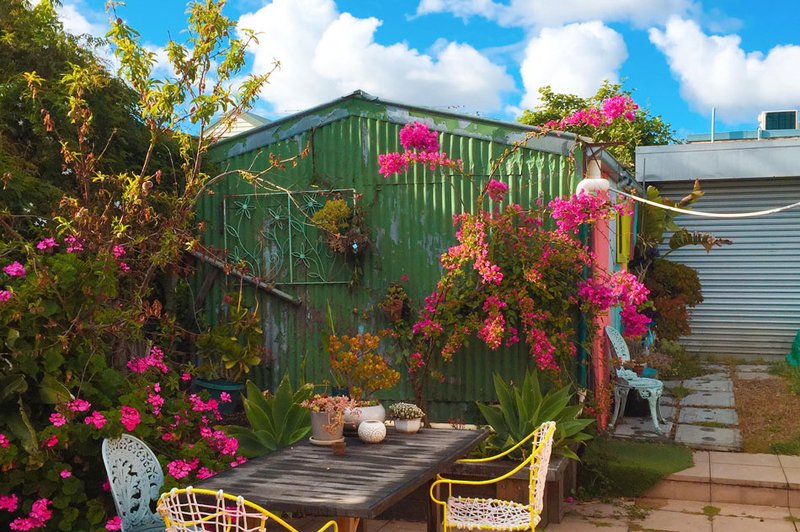 Garden of Yoga pre-renovation
Be welcoming to whoever shows up (be prepared to teach one on ones in 'group' classes)
You might be disappointed if only one person shows up to your group class - but it's really important that you don't convey those feelings to your class and instead give that one person a really great experience.
I usually check in and see what their needs are that day and base the class around their answers - the way I would in a scheduled private class, or sometimes if I sense someone doesn't feel like the focus of a 'private session' I practice beside them instead.
A smaller home based space can be a great environment for smaller sessions (which can feel a bit incongruous in a big studio or gym). If you haven't had a lot of experience teaching private sessions this is also a great way to practice!
Some studios do have a minimum number of bookings to run a class - but I feel like cancelling someone's booking because it's just them is a real disincentive to them booking again next time and sends the message that they aren't important.
Sometimes if I know a class only has one person booked i'll invite a friend for a freebie session (or a birthday present session, thank you session or I know you've had a tough week session), they are usually really appreciative and bring great energy to the space. It can get a bit disheartening if you are teaching very low numbers week after week and bringing some extra yogis and good vibes into your studio can really help!
Make it easy for people to see your schedule and book in (and be prepared to help them out with that).
I've had people come to my studio just based on my pretty website!
And other people have come because they found another local studio too hard to book into.
I also have a couple of older yogis who attend my studio who just aren't comfortable booking in online - so they just text or email me and I book them in personally.
It's a bit of extra admin, but the last thing you want to do is make it hard for people to book in for your classes. If you are getting that kind of feedback from a lot of people it might be time to streamline the process.
Cancellations
In a small studio, every spot is precious - make sure your cancellation policy is clear when people book their sessions. It's great to set up an automated text or email reminder service to cut down on any scheduling confusion or forgetfulness.
I have also noticed that if a new client booked in but hasn't filled out their new client form they often didn't show up for their class either.
I've found that sending out a follow-up email or text reminding them about the form and their booking really cut down on the no-shows!
Take advantage of having a beautiful home yoga space (schedule in your own practice).
I'm just not a morning person, so we don't have any early morning classes on our home studio schedule. Instead, my husband, and co-teacher Rane and I use this time to ease into the day with our own practice. I've also found that I am way too tired to practice at the end of my teaching day - so it really works for me to do my own practice first.
Another thing that works great is to head into my studio around an hour before class is due to start and use this time to warm up, tidy up and generally get into the zone to teach.
Set aside time for admin and 'big picture' projects
This is definitely something I struggle with!
If all your time and energy goes into teaching it's really hard to do all the other things your need to do for your business to grow and thrive!
What works for me is to actually schedule big blocks of time for invoicing, writing and creative projects - all things I need a clear head for. I only teach one evening class on Fridays so that's the perfect time for all my big picture projects - the things that I may not get paid for today but I'm inspired and passionate about, or will help to grow my business in the future.
It's much easier to build up your home business if you are teaching other places as well
If people like your teaching in a group setting, they are way more likely to come to your home space for a private class or specialised small group class.
Most gyms and studios have conflict of interest policies about advertising your own classes there, so sometimes corporate or community classes are a better option, or even running regular sessions online. But it is much easier to build up your home studio if you are out and about teaching elsewhere (plus you'll be a better teacher with more practice).
Shared spaces / private spaces
As well as the space you are teaching, think about how people will enter your studio, where they will go the bathroom and if there are any other rooms they need to walk through. You don't necessarily need to have a separate bathroom for your studio but if you don't you definitely need to keep those other spaces clean and maybe do a declutter so people don't feel awkward about being in your house!
Insurance and Paperwork
I had to update my home and contents insurance when I started running a business from home and ended up going to through the same company that covered my professional indemnity insurance. For me, it was one of my insurance conditions that the business had a separate entrance to our home, so this is definitely something you want to check out in the planning phase.
Just give your insurer a call or email to make sure that you'll be covered.
I also called my local council to make sure that it was legal in my area and to find out if any additional paperwork was required. I was fine, but every council is different and it's great to have that peace of mind.
Have any questions?
We would love to hear from you if you have any!
Check out these Episodes!